T.I. Tells What Guard Did To Wife Tiny After Arrest Video Of Him & Officer Surfaces
Posted On : May 17, 2018
On Wednesday (May 16th), The Black Loop reported that Tiny's, husband, T.I., was arrested on what appeared to be some suspect charges. Well, now a lot more information has surfaced -T.I.'s account of what happened, the police report, and video footage of T.I. and officers inside the county jail. After hearing all sides of the story thus far, just as many suspected, T.I.'s arrest really does seem like some straight up BS.
Why He Was Arrested
It was previously reported that T.I. was trying to enter into the gated community where he lives -in Harris County, GA (just outside of Atlanta)- but the guard would not let him in because he did not have his key. A verbal argument ensued and T.I. was arrested on simple assault, disorderly conduct, and public drunkenness charges. However, T.I. says there are many facts missing from the police report, that the security guard did not tell officers, nor did the responding officers make an attempt to find out.
T.I. Tells 'What Really Happened'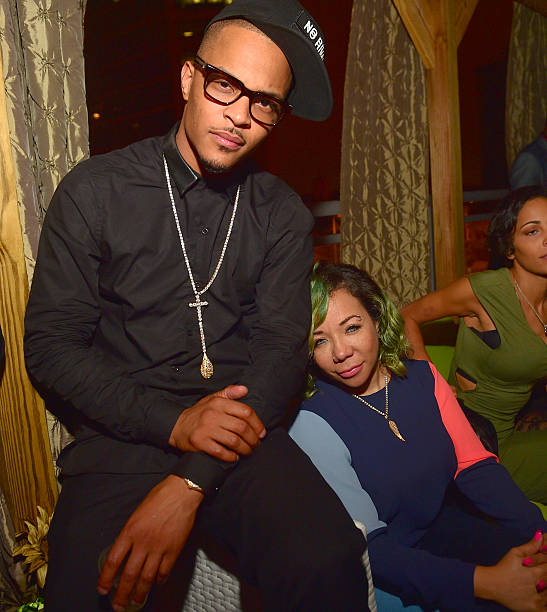 The police report stated that T.I. went to the security booth, looking for a fight that night. T.I., on the other hand, says that's an outright lie and told TMZ what happened and claims that the security guard also disrespected his wife, Tiny:
T.I. tells TMZ … the guard at his gated community in Henry County, GA left out a lot of details when police arrived — like the fact he was sleeping at his post, and T.I. had to wake him up Wednesday around 4 AM. Although the police report says T.I. yelled, "Hook me up" to the guard, the rap mogul tells us he actually said, "Look me up." He says the guard claimed he couldn't find T.I. on the resident directory, so T.I. had his wife, Tameka "Tiny" Harris, call. He says Tiny asked why the hold-up and said, "Just let him in." T.I. claims the guard barked back at Tiny, "Who the f*** do you think you is talking to me like this?"

T.I. says he was livid about that, and admits yelling obscenities. He says he reminded the guard, "I pay you" … and then demanded entry again. He says the guard relented, but when T.I. demanded his name in order to report him to a supervisor, he says the guard only stared with a "blank face." T.I. says he went home, cooled down and then decided to walk back to get the guy's name — but only got more of the silent treatment.
It was also reported that T.I. said the guard called cops and told them,"Yes, a Black male right in front of me in a striped shirt."
The rapper is adamant he had zero intent on getting physical with the guard and says he just wanted to have a talk with him, even though the guard apparently told cops otherwise. When the officers arrived, T.I. says they went directly to the guard (who is Black) and his supervisor to speak with them behind closed doors and that they immediately handcuffed him, without asking his side of the story.
T.I. told The Blast that the arresting police officers in his neighborhood, were "White cops in a very white area."
Video Of T.I. Trying To Get Answers In County Jail
When the arrest report was initially made public on Wednesday, it was presented as if T.I. was a drunk as hell and irate that night. But in surveillance video from Harris County county jail, just minutes after he was arrested, T.I. was clearly not a drunken mess. In fact, he seemed very level headed – though annoyed- as he was attempting to get answers from the White arresting officer, about why he was arrested.
In the video, the officer disrespected T.I. by repeatedly brushing off his question and never offering what T.I. has a right to know. Even then, T.I. kept his cool and respectfully told the officer he will be hearing from his lawyer soon.
Both T.I. and his attorney believe that he was treated unfairly and that his charges will be dropped once all of the details surface.