T-Pain Walks Off Stage After Getting Hit In The Face During His Performance
Posted On : March 12, 2019
T-Pain Walks Off Stage After Getting Hit In The Face During His Performance
Rapper & Singer, T-Pain has recently made headlines after he was set to perform at Denver's BBYO Convention. The rapper was set to perform on Sunday, February 17, 2019 and abruptly walked off stage in the midst of singing his Grammy nominated hit song, "Bartender". TMZ shared a video from the concert where fans shared that the rapper became so upset with the audience that he cut his set after only 30 minutes of performing.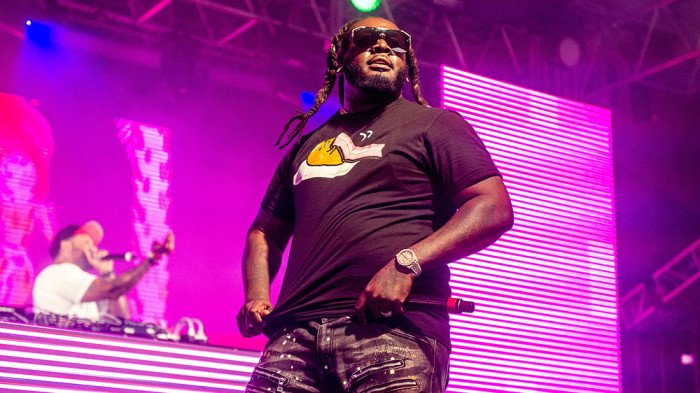 The teenagers and young adults who attended the concert seemed to show a lack of respect for the artist after they continuously threw beach balls at T-Pain while he performed!
This legendary R & B artist was seen in the video clip singing the opening lyrics to "Bartender" when he his suddenly hit directly in the face with a beach ball! Wait . . . . that's almost like throwing a tomato on stage during a stand up comedian's set! Although it may have all seemed like "innocent fun", the intense look on T-Pain's face read that he was completely outdone with the audience for the night.
As he twirled his mic and abruptly walked off stage, the fans weren't too shocked it happened. TMZ reported that, "Tension was building as witnesses mentioned that he told them had already warned the crowd he was leaving if they threw another ball onstage".
T-Pain hasn't gone on record to address the situation as he seems pretty focused on the release of his new album "1Up, which released this last month (February 2019). On the other hand, some fans who attended the BBYO Convention took to Twitter to speak on the incident. According to Complex, one attendee tweeted, "@TPAIN thank you for creating a teachable moment for our teens. I'm sorry they couldn't be more respectable. Thanks for joining us anyway".
No witnesses seem to know who threw the beach ball, but video footage captured the ball smack T-Pain right in the face!
Regardless of the reason, the disrespect was clearly noted by parents and other attendees who were on their best behavior for the "Bartender"rapper. While T-Pain's Denver's BBYO Convention performance was "cut short", the rapper stood firm in his decision to not continue his set or go back on stage. On a more positive note, T-Pain is getting ready to kick-off his 1Up Album Tour on March 16, 2019 and hopefully there will be a " beach ball" security check!
Click Here To Watch T-Pain Getting Hit In Face With Ball During His Performance >>>
#TPain walked off stage after getting hit in the face with a beach ball #ertvmedia pic.twitter.com/8Y5CwB4YcY

— ERTV MEDIA (@Ertvmedia) February 21, 2019