The Mowry Actors Are Great, But U Must See Their Gorgeous Mocha Mom & 4th Unknown Sibling
Posted On : December 29, 2017
Back in the day, it took a minute for many fans to realize that the Sister, Sister twins were actually the big sisters of the kid from the Full House and Smart Guy sitcoms. After that, not too much about their family surfaced as the years went by, other than the fact that they were biracial. As they became adults, more of their lives became public knowledge, as they began sharing precious memories of themselves on social media.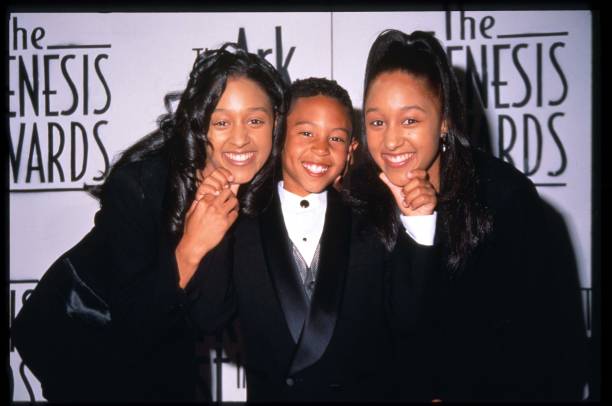 Tia and Tamera are 39 year old mothers and their lil' brother, Tahj Mowry, is 31. Damn, that time flew by! Anywho, here's the thing, we knew that the twins grew up into beautiful women and Tahj is nice looking fella, but many have never seen their GORGEOUS chocolate mother. Nor did most know that there is another Mowry sibling whom women are loving to stare at online.
Meet The Parents
https://www.instagram.com/p/BFKHIbNs8Ts/
First, let's give their Moms, Darlene Mowry, her shine. She's 61 years young and is out here looking much younger than her 61 years of age…
Ms. Darlene managed her kids' careers for many years back then. She has also been married to her children's dad, Timothy Mowry (pictured below), for decades and they're reportedly still going strong. Mr. and Mrs. Mowry were high school sweethearts and they both entered the Army together. Their kids were high achievers, because apparently they were too. Both of them worked hard to earn the status of sergeants in the Army…
The Mowry kids oftentimes posts photos of their mother online and a few of them were cute and touching. Check out what the youngest Mowry said about the woman who gave them life below:
https://www.instagram.com/p/Bax-eFMnbN7/
Meet Their Brother
Moving on to their youngest, lesser known sibling, Tavior Mowry.
https://www.instagram.com/p/BQT6WZ4hMTI/
Although a few throwback pics of him with his famous siblings have surfaced here and there, most people never knew he existed.
https://www.instagram.com/p/BWSxJYqHCdT/
Turns out, Tavior is a 24 year old University of California (USC) graduate, where he made some noise as a football player for the school's team.
The only other things that are known about Tavior, are that he's a true family person, just like his siblings.
https://www.instagram.com/p/BM7uDL4B9Sn/
He's also a music artist/musician who does his thing on guitar and behind the console. Not sure if the brotha is single, but the ladies have no problems shooting their shot at him in the comments on social media.
And there ya' have it ILOSM fam'…a few quick fun facts about the Mowrys' beautiful mother, their devoted Pops, and their other bro.'
Join us on Facebook for the most engaging discussions from the Old School! Old School News With A New Point Of View!