The Real Betty Boop Was Black & The Low Down Truth Of Her Story Has Many Pissed
Posted On : May 26, 2018
ILOSM fam' here's an interesting Old School fun fact: The original inspiration behind the infamous cartoon character, "Betty Boop," was a Black female singer who, in a nutshell, was jacked out of everything (except her skin complexion)…such as her likeness, her brand, her persona, her signature high pitched baby style of singing, etc. But what really has many people more angered about this, is the scandal-licious story behind what the individuals who jacked the originator actually had the nerve to do.
https://www.instagram.com/p/BfvbcM4hRx7/
THE BACKSTORY OF THE BLACK 'BETTY BOOP'
Here's the real deal behind the original "Betty Boop" inspiration. An African American entertainer named Esther Jones, was a regular performer at the then Black Harlem hotspot, The Cotton Club, in the 1920's. Her stage name eventually became "Baby Esther" because of her unique, "baby" style of singing. Her popular singing phrase was "Boop-oop-a-doop." Everyone knew about her in the Black community, because she was like the 'Tina Turner' or 'Beyonce' of Black entertainment back then.
Original "Betty Boop" Thief #1
Here's where the 'Olivia Pope' worthy 'SCANDAL' comes in. Esther "Baby Esther" Jones was jacked by a Caucasian singer, named Helen Kane, who'd heard about Baby Esther through the grapevine and in 1928, visited the Cotton Club in Harlem, to study Esther's performance. Afterwards, Kane mocked Esther's 'baby style' voice and persona and in that same year (1928), she recorded the now famous song, "I Wanna Be Loved By You," which included ESTHER'S original phrase, "Boop-oop-a-doop." As Helen Kane gained major popularity from that song, she then re-created Baby Esther's entire likeness- short hair and all- just in a Caucasian image of her own instead…without crediting her original source. Kane became a far bigger mainstream success than Baby Esther, due to her larger mass appeal with White audiences across the U.S..
First Thief Gets Jackson By SECOND "Betty Boop" Thief
In 1930, Helen Kane was jacked out of the persona she stole from Baby Esther, by an even bigger player- the then popular animation company, Fleischer Studios. That is the studio house responsible for creating the 'Betty Boop' animated character that the world knows of today. They'd created 'Betty Boop' as an animated caricature of Helen Kane without her permission and went on to make big bucks from it. But Laaawd, then came the REAL  kicker though…
THIEVES OF ESTHER JONES' LIKENESS FILE LAWSUITS
By 1932 Helen Kane (shown below) had the audacity to sue (and lose to) Fleischer Studios for $250,000 because get this- she said they STOLE her likeness!
LONG STORY SHORT– Helen Kane showed up in court with her hair styled like Betty Boop to try to make sure the judge could see the resemblance between her and the cartoon. The owner of Fleischer Studios, Max Fleischer, had his attorney prove that she herself had stolen the likeness and singing style from Baby Esther, so she couldn't possibly be trying to sue them. At first Kane tried to lie, but after Fleischer's attorney brought out the manager who took her to see Baby Esther's performance in 1928- to testify against her, her bubble was burst on sight.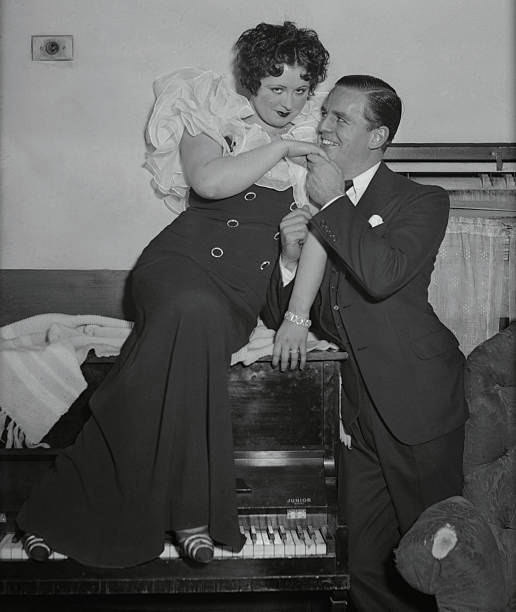 Also, to put that extra stank on it, Fleischer presented several singers who had been also performing as 'Betty Boop'- to testify (one of whom intentionally spoke in her 'Betty Boop' voice throughout her entire testimony, LOL). Their testimonies further proved that Helen Kane was not the only 'Betty Boop' performer, nor did she have any entitlement to the 'Betty Boop' brand.
WHAT THE ORIGINAL BLACK BETTY BOOP GOT PAID THO…
Compensation for the originator? Good question. There was none! At the time of the 1932 trial, it was assumed that Esther Jones had passed away by then, although there was no proof of that. Esther Jones was never paid one red cent from Helen Kane, nor for Fleischer Studios' infamous 'Betty Boop' character that still earns money to this day and as far as we know, neither were any of her family, nor descendants.
Max Fleischer's son, Richard Fleischer, later wrote a book about ALL of this, titled "Out of the Inkwell: Max Fleischer and the Animation Revolution."