Timbaland Lets The Cat Out The Bag: Reveals His Cousin Is Major Music Artist We All Know
Posted On : October 20, 2020
Mega producer Timbaland has been in the game for quite some time. Not only is he an amazing record producer, but he's also a singer, songwriter, rapper, and a DJ. To say that he's talented would be an understatement, the brotha is a musical genius. While many people know him from collaborating with the late Aaliyah, he's also worked with Jay Z, Nas, Ludacris, Bubba Sparxxx, Madonna, Rihanna, OneRepublic, Brandy, Drake, Rick Ross not to mention that he's worked with Missy Elliot.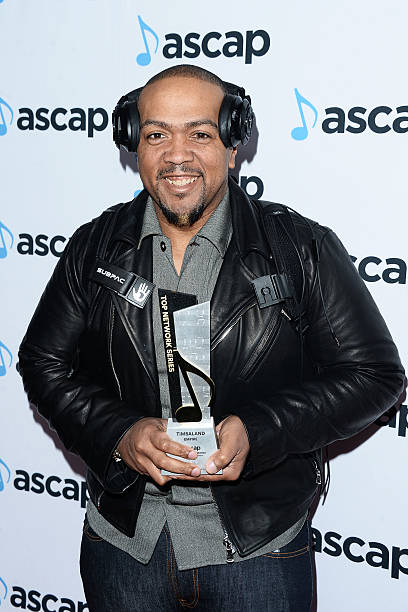 Some have labeled Timb' 'the Quincy Jones of our Generation X, although I personally think he has a lot more years of work to put in before earning that prestigious title. But Timbaland is one of the best producers in the game by far, with a sound of his own that he developed through listening to warped records.
"If you leave a a record out in the sun, it will warp, he notes in his memoir Timbaland. [I]t's going to have a strange, distorted sound. I love that sound and I started making beats with that vibe. I was thinking, Warp it a little, when I added belching synthesizers to the beat I was working on."
Making music with a unique sound seems to be a family business as Timbaland revealed that he has a cousin that is a mega music producer too. Just as Timbaland developed his own sound, his cousin is known for his unique flare as well. Both are known for making beats and there was a recent rumor that the cousins would square off in a beat battle. In an interview with "The Cruz Show",Timbaland shocked many fans when he revealed the name of his musical relative.
Timbaland Reveals Pharrell Is His Cousin!
Lo and behold, Timbaland is the cousin of  another hit making producer/artist, Pharrell Williams! They're related through their grandmothers. On "The Cruz Show" Timbaland revealed that he and Williams were in a musical group together called, Surrounded by Idiots. This isn't the first time that Timbaland let the cat out the bag as he also revealed that Williams was his cousin in his memoir.
When the 2 musical cousins were in high school, Timbaland was the DJ and Pharrell served as one of several rappers. Magoo, who would eventually release several albums with Timbaland, was also a member. During the interview, Timbaland revealed how innovative their music was.
 We even had a few songs that I think would still be up to the standards of today.
How Timbaland's & Pharrell's Personal Lives Have Changed Majorly In Recent Years
Pharrell and Timbaland are both fathers as well as husbands. In 2008, Timbaland, whose legal name is Timothy Mosley, married Monique Mosley. However, after 7 years of marriage and one daughter, Reign, the couple decided to divorce as Monique grew tired of Timbaland's infidelity.
His cousin, Pharrell Williams, however, celebrated the birth of triplets as his wife, Helen Lasichanh, gave birth to the babies in January 2017. Lasichanh and Williams, who wed in October 2013, are also parents to 8-year-old son Rocket Ayer.
Timbaland Became A Hip Hop Sex Symbol Over The Years
Timbaland is full of surprises and he surprised us all when he revealed his new, toned up physique. In 2016, Timbo' shared with followers, his new self, as he lost a whopping 130 pounds! For years, the legendary producer struggled with his weight, but he decided to make a change and put himself first. Soon after his weight lost in 2016, he posted before and after pictures with the following message:
"This past eight months I've lost over 130 pounds. With a positive mindset I knew I had to take the initiative to make myself happy and healthy. When you realize the only thing getting in the way of your goal is self doubt you'll want to push yourself harder. You got to do this for you. This is for you. This isn't about anybody. Live for you. Honor you. Never lose sight of that. #everythingyoudo#workhard #teamtimbo.
In his memoir, Timbaland revealed that he's no where near done. The musical icon has a goal of creating a musical catalog that is comparable to Quincy Jones.
My goal is to achieve a body of work that can sit in comparison with the work of the one and only Quincy Jones, Timbaland revealed in his memoir.
At the rate Timbaland is going, he may be able to do just that.