Toni Braxton Wears Big Diamond To Soul Train Awards & Tamar Says Sis' Is Married
Posted On : November 27, 2017
At last night's Soul Train Awards, it was beautiful to see R&B legends be honored in a major way. SWV was finally given their just due after decades in the game, by being honored with 'The Lady of Soul' award. Bell, Biv, DeVoe tied with Ledisi for the 'Soul Train Certified' award. While, Toni Braxton was honored with the 'Don Cornelius Legend Award.'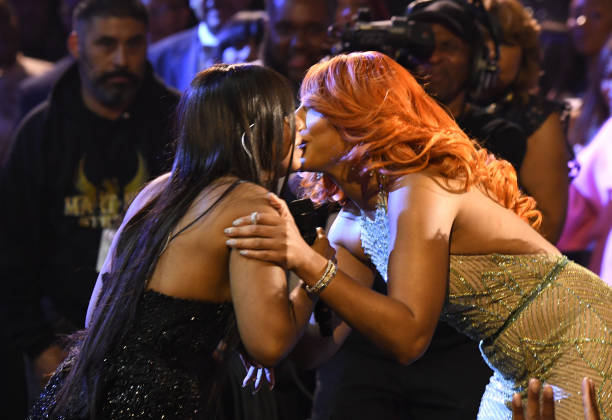 In addition to being honored, the talk of the night was also the many performances. Toni B., SWV, and several other stars showed up and showed OUT on stage last night. However, this morning much of the talk was about that big colossal sized rock that Toni B. was rockin' yet again on her 'I'm spoken for finger.' As she accepted her 'Legend Award,' pretty sure the lighting guy had to adjust his levels so that diamond wouldn't blind the TV audience.
Although Birdman wasn't there with Toni, fans sure did place him there in spirit. Why? Because where else did Toni get that big rock from? Of course she could have bought it for herself, but chances are, it was probably a very nice gift from her man…that's all speculation though, so don't quote me on that.
Who you should quote however, is Toni's lil' sis,' Tamar Braxton who as usual, commenced to sparking more rumors about Toni and Birdman, following the Soul Train Awards. Tamar took to Instagram to big up her big sister on her Soul Train honor, and in doing so, she threw in a quick reference to Toni's last name now being Williams -as in 'Mrs. Bryan "Birdman" Williams'- instead of Braxton:
tamarbraxton: My sis❤️ how could any other person EVER be more proud!! @tonibraxton -Williams u are THE LIVING LEGEND! Period! 💙 thanks to soul train awards
This isn't Tamar's first time implying that her sister is married to Birdman. As we previously reported, during an interview on The Wendy Williams Show, Tamar said she suspected that Toni and Mr. 'Respeck On My Name' eloped a few months ago. She talks about that the 8:12 mark of the video below…
Shortly after Tamar's Wendy Williams Show reveal, she also posted an Instagram message calling Tamar "Mrs. Braxton-Williams." Then Toni surfaced in Dubai rockin' the same left hand rock that she wore to the Soul Train Awards.
We don't know what's up for sure with Toni's and Birdman's marital status, but one thing is clear, they're still together and loving every minute of it.
More Highlights From The Soul Train Awards
Now, moving on to those FIRE Soul Train Awards performances. Check out a few of the highlights from thw show below…
Erykah Badu takes a knee for Colin Kaepernick and has some words for Trump…
SWV did their thing and brought out surprise guests…
Kirk Franklin, Le'Andria Johnson, Daniel Caesar, MAJOR and Ledisi took us to chuuuuurch…
Toni B.'s voice is just as smooth as ever…