Valerie Simpson (of Ashford & Simpson) Replaces Kandi Burruss In New Career Fans Didn't Expect
Posted On : March 23, 2018
The legendary singer/songwriter, Valerie Simpson (of Ashford & Simpson), is proving that at 71 years young, 'ain't no mountain high and no valley low enough,' to block her ambition, nor her blessings. Right about now, the love of her life, the lateNickolas Ashford, would be so proud of his wife, if he were here to see the new roads she's daring to cross.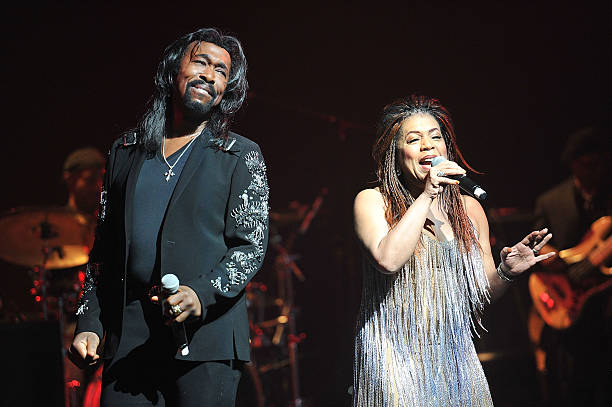 As y'all already know, Ashford & Simpson, graced us with some bangers throughout the years, including their hits, "Solid as a Rock, "Is It Still Good To You," "Ain't No Mountain High Enough," and more. They also wrote countless multiplatinum selling hits for other artists, such as Chaka Khan's "Im Every Woman," Marvin Gaye's and Tammi Terrell's "You're All I Need To Get By," and many more.
Valerie Simpson's New Career
This month (March 2018), Valerie entered into a new profession- as a Broadway actress in the hit stage play, "Chicago Musical," where she's playing the role of "Mama Morton." Her family and friends -including the legendary singer, Freddie Jackson- showed up to supported her Broadway debut…
Kandi Makes Way For The "Solid" Legend
Not only did Simpson's new gig surprise many of her fans, who mainly know her as an R&B music legend, but when they learned she was actually replacing a popular singer/reality star who's 3 decades younger, they were also impressed.
Xscape singer/"Real Housewives of Atlanta" star, Kandi Burruss, starred in the stage play for a minute as "Mama Morton," just before handing that title to the queen herself, Valerie Simpson.
In fact, as Kandi was performing her last shows with "Chicago Musical," she posted the above photo of her and Valerie on Instagram. The legend went to watch Kandi and the rest of the cast in action, just before it was her time to take center stage.
The reason many are impressed by Valerie's new venture, is because not only is she still making new strides in her career at 71, she's also coming behind a quote-unquote "current" star, Kandi. Granted, Kandi Burruss' musical accomplishments doesn't come close to that of Valerie Simpson's, who helped pave the way for artists, like Kandi, to follow. However, the pressure was on for Valerie's Broadway debut, because in today's entertainment/social media climate, Kandi is a big crowd drawer and therefore, tough act to come behind. Regardless of that fact though, word on the Old School curb is that Valerie Simpson stepped onto that "Chicago Musical" Broadway stage and set it OFF!
"Set It Off Actor" Is Her Co-Star
Speaking of "Set It Off," guess who Simpson's new "Chicago Musical" co-star is? None other than "Set It Off" actor, Chaz Lamar. Remember him? You may not recall Chaz's real name, but if you've seen that classic 90's film, you definitely remember his face. Who could forget, the cat who played "Stony's" (Jada Pinkett-Smith) lil' brother that had all of us tearing up when a trigger-happy cop shot him outside that apartment complex?
Well, unbeknownst to many, the brotha can not only act, but he can sing, which is why he was able to land the role in a classic musical, like "Chicago Musical."
As we reported a while back, here's what else Chaz has been up to since many of us last saw him in "Set It Off":
Chaz Lamar (also known as Chaz Shepherd) is a professional R&B singer. Who knew, right? This dude doesn't just sing, he SANGS. FYI: that's not a typo…he really is a SANGIN' somebody! Chaz performs regularly and he once released an album titled, "Love & Truth." He's also performed in other Broadway productions, including "The Color Purple" and the musical, "Dreamgirls." Check out his music videos and performances below…
And since we're on the subject of music videos, y'all know we canNOT end this article, without throwing back to some Ashford & Simpson classics, just for nostalgia's sake. Reminisce with us ILoveOldSChoolMusic fam'…
It's a beautiful thing to see Valerie Simpson continuing to let her light shine and displaying her many talents to the world. We wish her and Chaz much success in their new chapter together as co-stars in "Chicago Musical."