(Video) Oprah Throws 63rd Birthday Party For Sister-Friend Gayle w/Her Kids, Friends & Fam'
Posted On : December 29, 2017
We already know that Oprah Winfrey's past audience members racked up plenty of perks on her talk show. Remember the many gifts, including the infamous 'You get a car, you get a car, you get a car…you all get a CAR!!!' giveaway? Well, imagine being the sister that Oprah never had for so many years. On second thought, that was until she met her REAL sister in 2011, but that's a whole 'nother story. Back to Oprah and her sister-friend, Gayle King though…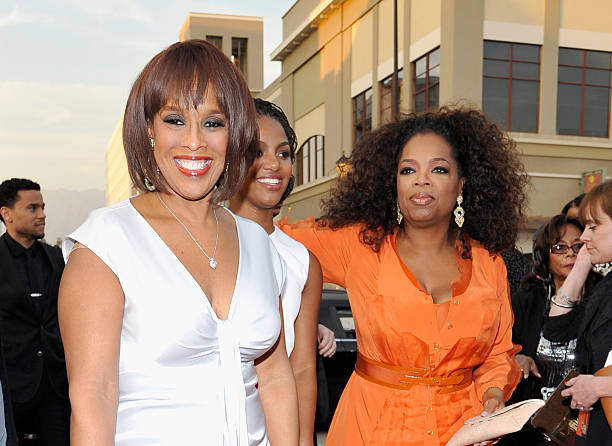 When you're Gayle, there are many 'perks' that come along with her role in Oprah's life…even though Gayle has accomplished great things of her own as well. One of the perks to having a loving billionaire best friend is that you get beautiful birthday parties on remote Hawaiian islands thrown for you. That was the case for Gayle's 63 birthday party, when Oprah, Gayle's two kids, and a few of their closest friends and fam' showed up and showed out to show Gayle how much they love her. **Scroll down for photos and video**
In a series of Instagram posts Gayle and Oprah shared, it was clear to see that they ate good and partied well as they celebrated Gayle's 63rd orbit around the sun on December 28th. The buffet styled menu was catered especially for Gayle, with her favorite foods, including glazed carrots, Dover Sole Meunière, braised short ribs, skillet potatoes, butter lettuce salad with pears and truffle Au Gratin cauliflower.


Okay, let me back up for a minute, if you're like me, then you probably had to Google a couple of those high end dishes, so no worries, I'll save you the time. Now, when I first heard Oprah say the words 'Dover Sole Meunière,' I first thought of manure, as in the animal feces used to make fertilizer. Thankfully though, Dover Sole Meunière is far from animal defecation and is actually a fish dish. Why didn't they just say that Gayle was having fish on the menu instead?!! Moving on…


The party was in Maui and to keep Gayle's beautiful physique in tip top shape, Oprah revealed that the menu Gayle requested was "almost Weight Watchers-approved." Y'all know that's how Oprah says she's recently slimmed down as well. Check out the pics and videos of the birthday celebration below and be sure to SWIPE LEFT to see all of them…
SWIPE LEFT To See All Of The Pics & Video From Gayle's Party
That was a beautiful b-day celebration. This reminds us of what Stevie, Dionne, Gladys and Elton told us back in the day "That's what friends are for"…
Join us on Facebook for the most engaging discussions from the Old School! Old School News With A New Point Of View!