Video Surfaces Of Snoop's Cousin Daz Dillinger Ordering Crip Gang Retaliation Against Kanye
Posted On : April 30, 2018
Rap O.G., Daz Dillinger, is the latest celebrity to have a serious issue with controversial Kanye West. However, if you think it has anything to do with Kanye's current Trump bandwagon he's crusading on these days, think again. Daz couldn't care less about Kanye's bromance with the man serving as president of the free world, but he does give a damn about some apparent jabs he feels Kanye took at his fellow Crip gang members. As a result, Daz has sent an official threat to the pro-Trump 'sunken place' rap star.
Daz's Threat To Kanye: 'Stay In Calabasas Or Get Fu—d Up'
Although Daz didn't make his reason for threatening Kanye clear to the general public, he did make the threat, itself, public in a major way. So major, that the Cali bred ex Death Row Records Dogg Pound rapper took to Instagram to tell Kanye to stay away from ALL of California, except the upscale Calabasas neighborhood.
Check out Daz's video message to Kanye below, but just in case you're at work or sitting around kids, you may wanna read his message, instead of playing it out loud, just saying…so here it is:
Daz Dillinger: "Yo, national alert- all the Crips out there, y'all FU&K Kanye up. You see hat muuuhfu*ka, F**k his a$$ up on GP. It's Crip sh*t ni&&a. We gon' show you how we come together and ride on your muthaf**in' a$$. …So better not ever see you in concert, bett' not ever see around the LBC [Long Beach, California]. Better not ever see you around California. Stay in Calabasas, you hear me? 'Cause we got a Crip alert for Kanye. You don't speak on Crip gods ni&&ga, we the Crip gods, know what I'm saying? […] So all the Crips out there, you see that ni&&a, bang on his a$$, f**k his a$$ up."
Geesh! After transcribing Daz's video message, I feel like my fingers need to be cleansed with some of my grandmama's Old School 'anointed water'…LOL. So many cuss words to get one message across, but I get where you're coming from Daz, it's all good. Anywho, check out his video message below…
Why Is Daz Really Mad At 'Ye?
Two reasons, circulating around the internet, as to why Daz is threatening Ye's safety. One could be due to the fact that Daz is the cousin of his former Death Row label-mate/Crip gang OG, Snoop Dogg. Since Snoop has been goin' in HARD on Kanye's pro-Trump antics, Daz may have just felt the need to join the party.
The second reason could be due to the fact that Daz may not have appreciated how Kanye name dropped the Crips in the end of his latest track, "Ye vs. The People," which also features T.I.. Toward the end of the track, Kanye says "Like a gang truce, the first Blood to shake the Crip's hand."
Recap Of Snoop Hilariously Trolling Kanye Over Trump
Speaking of Daz's cousin, Snoop, if you missed the previous report on how Snoop comically dragged Kanye from here to Timbuktu and back, here's a quick recap: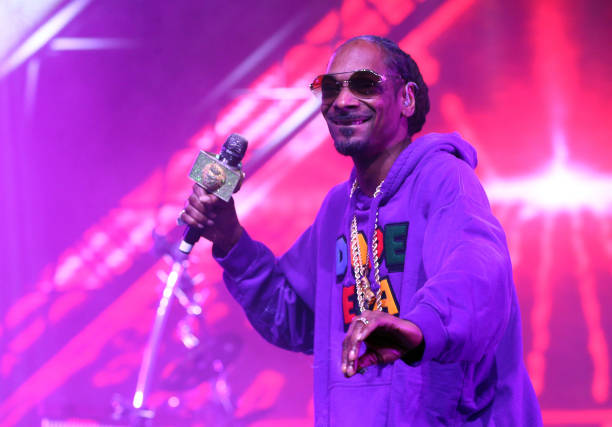 As most of us have heard by now, starting on April 27th, Kanye sparked a media firestorm after re-emerging on social media, with all sorts of bro-mance type tweets, professing his unwavering "love" for for his "brother," Donald Trump. He also bashed former President Barack Obama in the process. Needless to say, Kanye is catching hell from celebs and fans from ALL walks of life and all races.
After Kanye showed his true colors, Snoop has been trolling the hell outta him, urging him to "Get out" and away from the 'sunken place' of the Kardashians:
Again, we're not sure if Daz's threats to Kanye have anything to do with Snoop. But one thing is clear- one cousin chose the comical route to teach 'Ye a lesson, while the other is clearly making physical threats. Hopefully their issues won't go past social media beef.