Wife Of Murdered Man Outraged After Suge Knight's 15th Lawyer Suddenly Quits Before Trial
Posted On : March 26, 2018
The pending murder trial of Death Row Records mogul, Suge Knight, is going through more changes than a lil' bit. After several arrests of his legal team, as well as his wife, there is yet another situation. Suge's 15th attorney for his murder case has suddenly quit and all hell broke lose in the courtroom.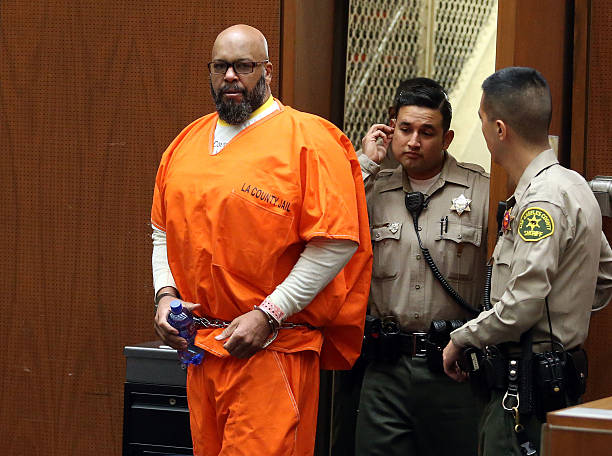 Murder Allegations
In case you hadn't heard, Suge Knight has been locked up since 2015 for a 2014 murder. He plead not guilty in Los Angeles Superior Court for murder and attempted murder charges, after running over two men- Terry Carter, who died from his injuries, and Cle "Bone" Sloan- with his Ford truck during an altercation outside of a Compton, Ca. burger spot. The incident was caught on video, as Sloan was seen walking to Suge's vehicle and punching him through the drivers side window. Suge has maintained his actions were not intentional, but were self defense.
Courtroom Outbursts
Since his murder case began, Suge's lawyers have been either quitting, or reportedly getting fired/dismissed left and right. According to NY Daily News, Suge was finally scheduled to go to trial on April 9, 2018. However, as of Friday (March 26th), his 15th lawyer, Dominique Banos, suddenly said 'peace out' to the case, 'citing a conflict of interest, leading the judge to scrap the long-awaited trial date and assign a public defender.'
This last minute delay of what feels like the millionth time to Terry Carter's family, led to Carter's wife, Lillian Carter, having an emotional outburst in court. The courtroom tension was so thick, you could cut it with a knife. Lillian, along with the her and Terry's daughter, Crystal Carter, were seated just a few feet away from Suge's parents and other loved ones.
It was also reported that during the courtroom session, a man claiming to be a friend of both Suge and Carter, repeatedly tried to approach Carter's wife, but she yelled for him to leave her alone.
"I'm so angry, I don't know what to do," widow Lillian Carter told the Daily News after the judge's decision. "It's totally ridiculous. … I'll be glad when this whole thing is over. We deserve the right to move on with our lives. Each time we have to come to court, it's something new. It's very difficult."
Suge Displays Frustration To Judge
Ironically, Suge and his loved ones were also equally frustrated, which caused the judge to issue him a stern piece of advice that came off more like a warning, if he didn't calm down and get his mind right:
Via DailyNews: During his morning hearing, Knight addressed the judge for several minutes, his voice cracking at times as he complained about the protective order barring his access to jail calls and visits from anyone other than a few family members and his lawyers. He claimed he's been the victim of a "smear campaign" and said he's cycled through so many lawyers because the only place he can shop for them is the jailhouse visiting area.

"My case is a real simple case. Either I did something or I didn't. Either they had firearms or they didn't," he said. "Nobody would use these attorneys for a jaywalking ticket," he complained.

"Mr. Knight, you need to take a deep breath," Los Angeles County Superior Court Judge Ronald Coen said as the former head of Death Row Records got more and more worked up while sitting at a defense table with his hands shackled.
Suge's Fiancee Recently Jailed
Suge Knight fiancee Toi-Lin Kelly sentenced to 3-years in prison for violating probation in murder case against https://t.co/lVirZo8FJG

— JammedUp (@jammedup) February 3, 2018
As we previously reported, Suge's fiancee, Toi-Link Kelly (37), was sentenced to three years in prison on February 2, 2018, Los Angeles County Superior Court Judge Douglas Sortino, for violating probation.
Kelly's previous probation orders were to never contact Suge under any circumstances. As of 2016, the only contact Suge can have, are with his attorneys. However, it was revealed that Kelly attempted to make contact with him to arrange interviews with producers for a Death Row Records documentary that is currently in the works with BET.
Judge Sortino told Kelly that her actions were betrayal of the leniency he'd given her during her previous probation sentencing. According to New York Daily News, Sortino told Kelly, "To me it's pretty blatant, and frankly, jaw-dropping," regarding her latest violation of disobeying his court orders.
Wow…just, wow…