Following Separation, Wife Of Usher Reportedly Does What Many Were Hoping She Wouldn't
Posted On : April 10, 2018
They say life has a weird way of repeating itself sometimes and for "Good Kisser" singer, Usher (39), new reports are stating that he's now reportedly been kissed by the 'divorce fairy' twice- both within similar time frames of their wedded bliss. Unfortunately, amid his herpes scandal and cheating allegations the latest news is not what Usher's wife, Grace Miguel (49), probably wished would be the outcome of their marriage.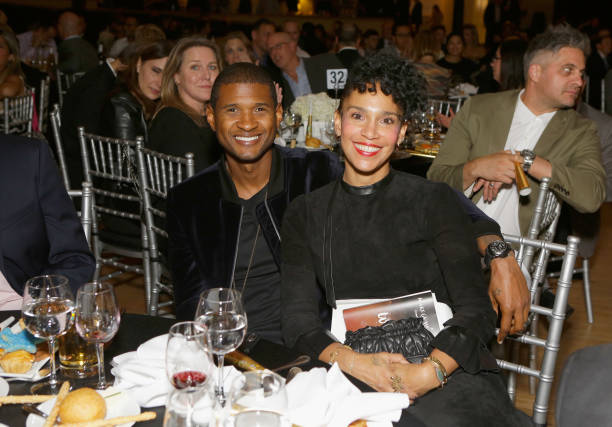 Details of Divorce Filing
Like we said, the similarities in the Usher's marriage durations are evident. He divorced his first wife, Tameka Foster, 2 years and 3 months after marrying. Now, according to TMZ and PopCulture,  his second wife, Grace, has just reportedly filed for divorce just 2 years and 7 months after they jumped the broom in Sept. 2015:
Via PopCulture– A month after Usher and wife Grace Miguel separated following two years of marriage, Miguel has officially filed for divorce from the R&B singer. TMZ reports that Miguel filed legal documents against the former Voice coach Tuesday citing irreconcilable differences.
Grace also posted the below cryptic inspirational message on her Instagram page, encouraging herself and others to be grateful for the "blessings" one may not be able to yet see…
We could be wrong, but Grace's IG message may presumably be a reminder to herself, that although things may seem bleak in the midst of divorcing the love of her life, there is still light at the end of the tunnel.
Their Separation Announcement
This divorce news comes about one month after Usher and Grace officially announced they were separated in March 2017. In a brief statement Usher and Grace issued to US Weekly, they stunned fans with the this joint statement.
Via USW:"After much thought and consideration we have mutually decided to separate as a couple," Usher, [39], and Miguel, 48, said in a joint statement to Us on Tuesday, March 6. "We remain deeply connected, loving friends who will continue supporting each other through the next phases of our lives. The enormous amount of love and respect that we have for each other will only increase as we move forward."
It was also reported that Usher and Grace had already secretly separated for "a couple of months."
Grace is known for giving many cryptic messages Instagram and shortly after they announced their split in March, she posted a few more of them on her IG page. Like we previously reported, Grace's posts gave a combined vibe of the types of breakup messages within Lisa Lisa & The Cult Jam's "All Cried Out," mixed with a hint of Mya's "I'm Moving On," and a dash of Beyonce's "Irreplaceable." Grace's first post read: "In as much as you have suffered finding your way in the world, you have also triumphed. Let not past failures pull you back through time and space. Rather begin each new day as an opportunity to create that which brings joy to your heart. Rejoice in your capacity for resilience."
Grace then posted a meme, encouraging herself and others to do away with the 'what's the best for your image' mentality and instead follow what your heart tells you to do. It pretty much seems as if Grace is fed up with frontin' out here in these streets, like she's unbothered by the stresses that come along with Usher's herpes scandal and cheating rumors.
Even though they're officially divorcing, just months ago everything seemed all good between them, despite the controversy Usher's been shrouded in. On their 2 year anniversary in September 2017 -after the herpes scandal broke- Grace was standing strong by her man. She even sent a few lovey-dovey social media messages to him on the day of their anniversary. In her first post, she vowed to always stand by her man's side no matter what:
https://www.instagram.com/p/BZMEUdHHvyQ/
In her second anniversary post, she shared a happy photo of her and Usher, as she reminisced about the time he surprised her:
https://www.instagram.com/p/BZO7uKmHVEI/
Things may have been stressful for the Mr. and Mrs. toward the end of their marriage, but we wish them a stress-free divorce process, which shouldn't be to complicated- given that they have no children and only 2 years and 10 months of marital history and assets to divvy up.