Woman Throws Shade At Lil Kim's Weight, Rapper Hits Her With A Thorough Clap-back
Posted On : December 19, 2017
When people take to social media with rude comments about celebrities, they probably never expect for the celeb' to actually clap back. Since popular posts normally generate thousands of comments, there's a slim chance the celebrity may actually even see it. But unfortunately for some internet trolls, the celeb' actually sees their comment. Those internet trolls are what we, here at ILOSM, refer to as keyboard gangstas: those who get real tough, typing rude comments behind the comfort of their computer screens and cell phones. That's what happened with one commenter who tried to drag Lil' Kim through the mud and back. It all started with an Instagram post. But instead of Lil' Kim being the butt of a vicious joke, the keyboard gangsta was the one who ended up being embarrassed.
Instagram Gone Wrong:
On Sunday, December 17, Lil Kim posted a photo with Remy Ma. She captioned the photo, "All our clothes custom str8 from France I dead ass love this girl This is my partner fr I love U sooo much @remyma #lilkim #remyma #queenbee #beehive #wakemeup #hotfortheholidays."
Check out the post:
https://www.instagram.com/p/BcycbAjHPP4/
While most fans thought the post was just a heartfelt ode to a friend, one of Kim's Instagram followers used the post as an opportunity to point out the rapper's flaws, reports Madame Noire. The woman criticized Kim for her stomach. "Well, you need to tell them to customize that stomach part a little bit more because you could see a rolls not cute sis!!!"
She probably didn't expect Kim to even see the comment, but apparently, she did and she definitely had time today…
The Clap Back Was Real:
Instead of stooping to the woman's level and firing back with a smart remark, Lil Kim offered a classy clap back and it was one of the most honest statements she could have made. Her honesty, alone, is worth applauding. Now, it's no secret that Lil' Kim has some insecurities- that's pretty evident based on her several cosmetic transformations to her face and such. But although she may be a physically transformed celebrity, Kim made it clear that she's a human being first: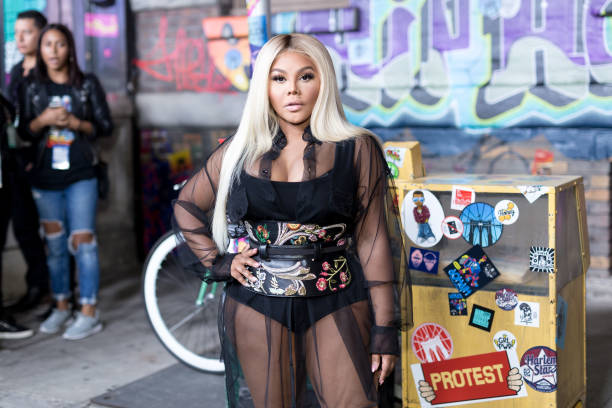 "Working on it Sis its natural most women have it or have had it especially us women that have kids I'm human. I could have Photoshopped it, but I didn't because I have been working out every day really hard and eating better so I can be the best me that I can possibly be it's called growth and change. Now I know I don't owe you spit of an explanation at all but responding to your negative comment with a positive comment can maybe help someone else who may feel a little self-conscious about their weight gain or little rose that show through their clothes. Know it's okay because I'm telling the main don't complain at all if anyone wants to change for themselves maybe my comment will motivate them to start exercising and get healthy."
She continued:
"I'm pretty sure you thought this was going to hurt my feelings and tear me down but it didn't it just give me more motivation. Because I'm pretty sure you are miserable not in the best shape yourself and judging by your picture I give you a strong too, and I'm sorry who are you again? Anyway, sis get positive and healthy. And get a life go ahead sis you can do it make that change."
Although Lil Kim was a lil' ticked off about the woman's jabs toward her, props to her for gettin' her grown woman on and handling it in a classy way.