Tichina Arnold's Daughter Steals Hearts With Her Amazing Singing Voice Like Her Mother
Posted On : February 19, 2018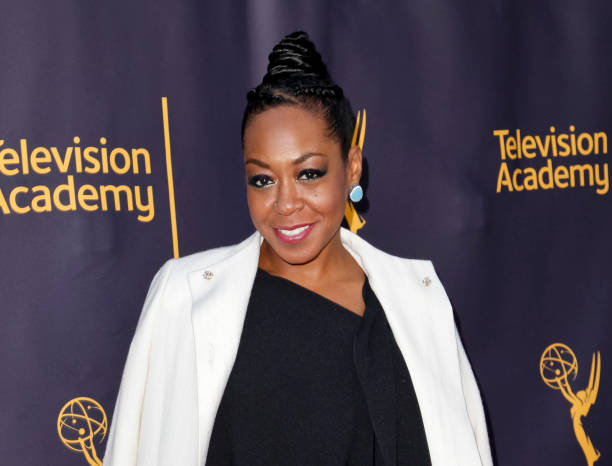 Most of us, Martin sitcom fans, first learned that actress, Tichina Arnold a.k.a. "Pam," could sing in the 90's. She had the ability to crack us up on Martin, but she also had a few moments on the show when she showed off her beautiful alto voice. Who remembers when "Pam" and "Gina" (Tisha Campbell) were both trying to impress Notorious B.I.G. during one episode and "Pam" decided to sing "Gina's" name in front of the rap legend, with the hopes he'd recognize her talent. We also can't forget about that infamous duet she and Brian McKnight performed on the show, during "Martin's" proposal to "Gina."
Nowadays, it's Tichina's beautiful 14 year old daughter, Alijah Kai Haggins, who is creating quite a few unforgettable moments of her own with the talents her Moms gifted her. Akilah inherited her mother's ability to sing and her voice is just as beautiful. She's also just won the hearts of many, after Tichina recently posted two video clips of Akila singing her heart out on Instagram. Tichina's mini-me sang Rihanna's hit, "Love On The Brain," better than Rihanna even sang it, in my humble opinion. That's no diss to Ri', she did her thang on the song, but it's just an observation. Check out the clips of Akila singing that has everybody cheering her on with words of encouragement:
In the first Instagram post, Tichina explained that these video clips of her baby singing, were filmed during Christmas, when their family asked Akila to stand and entertain them. Soon as they heard her voice, they all whipped out their phones and started recording…
Not sure what Akila wants to be when she grows up, but a career in the arts wouldn't be a bad idea for her.
On a side note, we can't wait to get confirmation on the Martin show reboot that's reportedly in the works with Netflix. In case y'all haven't heard by now, Martin Lawrence, Tichina, and Tisa Campbell pretty much let that cat outta the bag in a recent interview with the paparazzi. See what they said about that below and let us know if you'll be watching…