Jill Scott Wins Restraining Order Against Her Husband & Makes Several Claims About Him
Posted On : February 6, 2018
Today, Jill Scott is somewhere 'living her life like it's golden,' after getting a small victory over her estranged husband, Michael Dobson. Just a few days after Michael filed for a restraining order against Jill (which we're not sure if he was granted or not), the "He Loves Me" singer was just awarded a restraining order of her own against him.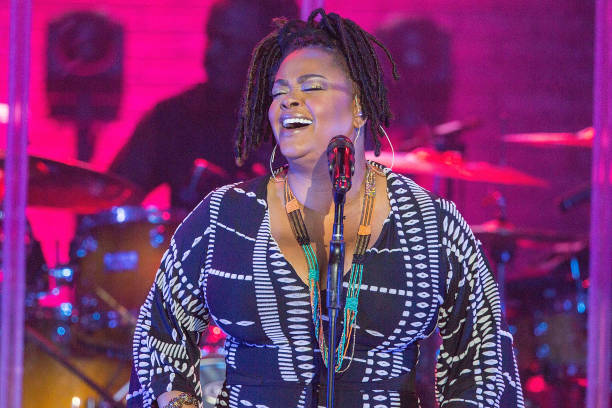 Apparently, both of them are accusing each other of violating their prenup agreement, which prevents them from talking mess about the other in public. Wow, typically prenups are primarily devised to protect one's assets and such, but the fact that they went into their 19 month marriage, with their guards up about draggin' each other in the media, says a lot about the level of trust and communication or lack thereof that existed prior to. Anywho, the reason Jill was just granted the restraining order against Michael, is due to several violations of their prenup, according to TMZ.

In her filing, Jill claims that not only has Michael been draggin' the hell outta her to her family and friends, he's also taken numerous jabs at her in the media. She listed the time when Michael did an interview, calling her "an evil woman" and vowing to "fight dirty." It was also reported that when Jill stepped to him about his constant trash talking, she claims Michael told her it was his revenge plot to get back at her for deciding to end their short marriage. That ain't all though, as we previously reported, Michael supposedly stated that he's demanding $500K dollars from Jill. According to Jill's legal filing, her estranged hubby is trying to defame her just to get a piece of her paper, which was listed in the form of $2 million business accounts and other assets.
Now that Michael Dobson can no longer speak publicly speak about the situation, we won't be surprised if he still finds a way to get his message out…kinda like his estranged wife is doing on social media…
No matter how old I get, I'll still make mistakes; some more apparent than others but NOTHING has or will stop me from believing in Love or the beauty that derives from it. NOTHING. pic.twitter.com/JdPf5frFWv

— ⭐Jill Scott⭐ (@missjillscott) February 2, 2018
Like we said before, unfortunately, it looks like this is gonna get uglier before it gets better. Hopefully they can wrap up their divorce proceedings soon. It shouldn't be that complex, they were only 19 months in and have no kids together. On the sunnier side of things, all this drama may actually spark Jill to create some of her most FIRE music to date. Only time will tell.
Join us on Facebook for the most engaging discussions from the Old School! Old School News With A New Point Of View!