Jill Scott Slapped With Lawsuit By Former Friend Who Claims She Did Him Dirty
Posted On : March 11, 2018
Singer/actress, Jill Scott, has been going THROUGH it lately, but this time her latest legal drama surprisingly has nothing to do with he soon-to-be-ex-husband, Michael Dobson. It is her former friend who's suing the brakes off of her for what he says is a clear example of Jill trying to stick him for his paper.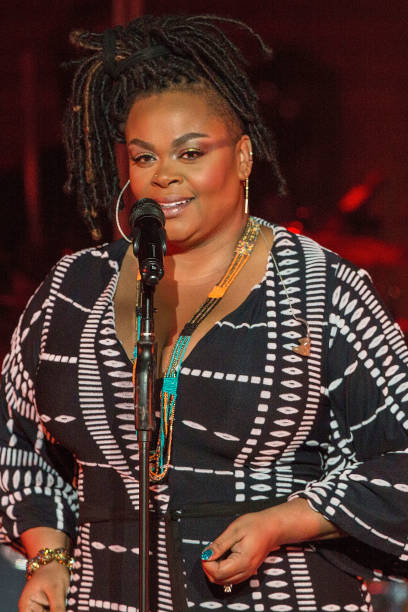 Why Friend Is Suing Jilly From Philly
Apparently, Jill and her ex-friend, Mister Frisby, go way back like Cracker Jacks. However, they have since become business rivals. Here's why- as we previously reported, Jill Scott launched her own line of greeting cards with Hallmark Mahogany in early 2017. The cards are geared toward African Americans and are centered around lyrical content from Jill's music. In an interview with Hallmark.com, Jill said, "I was inspired by highlights within my own life – love, marriage, motherhood – in the writing behind these cards." But her ex-friend, Frisby, is saying 'Hell naw Jill…you were "inspired" by MY idea.' See what he just told the Philadelphia Court of Common Pleas in his lawsuit filing…
Via CN: It was 10 years ago next month, according to the March 8 complaint, that Mister Frisby first approached Scott about "marketing Scott's musical lyrics to greeting card companies such as Hallmark and Mahogany." Frisby…notes that Scott was receptive to the idea and agreed they would split the profits 50-50.

Attributing the delay to Scott's "whirlwind career in the entertainment business," the complaint says Frisby dedicated himself to the project for the next several years, selecting appropriate lyrics and prepared sales pitches for potential clients. Just when Frisby was ready to secure an agreement, however, he says Scott put their plan on hold. Frisby says he learned in 2017 that Scott went ahead with the greeting-card endeavor behind his back, securing an agreement with Hallmark and Mahogany agreement to use her words in "cards, gifts, novelties, and related items."

"Defendant Scott materially breached her oral agreement with Frisby by falsely stating that she was putting this deal 'on hold,' when in fact she circumvented [him] and secured a deal and concealed this fact from plaintiff Frisby," the complaint states. Frisby seeks punitive damages for breach of contract and misrepresentation.
As far as I know, Jill's Hallmark Mahogany greeting cards have been a success, so depending on how this goes, Frisby just may make a small come up. As we all know though, there are three sides to every story-his side, her side, and the truth- but at this point, Jill's team has not responded to the claims. This isn't Scott's only legal problems nowadays, unfortunately, there's more…
Jill's Drunken Video Drama
As previously informed y'all, Jill Scott sent fans into a social media frenzy recently, when she posted a video of herself drunk and disheveled.
https://www.instagram.com/p/BfWXcODFKzn/
Although she claims that the video was simply the result of a night filled with kicks and giggles, where she had one too many drinks, unfortunately, many people didn't see it that way. In fact, her soon-to-be ex-husband, Michael Dobson, definitely ain't too pleased with the video.
Jilly From Philly's Restraining Order Struggles Against Husband
Jill made it claims her drunken video post had nothing to do with her pending divorce, her estranged husband is demanding that she be barred from posting on social media. Dobson had already publicly warned Scott about posting on social media and claims doing so could be a violation of a court order. Despite Scott's claims about her latest post that made headlines, her video still apparently falls into that category. Unfortunately for Jill, it looks like Dobson is truly looking to make a statement.
The latest news follows Scott and Dobson's court hearing on February 15. As we previously reported, that hearing appears to have worked out in Dobson's favor. During an interview with Bossip, Dobson's lawyer James Walker Jr. revealed how pleased his client was to be granted the restraining order against the singer. "We are very pleased with the decision today of the court to also grant our restraining order," Walker Jr. told the publication. "We are hopeful now that Ms. Scott Williams will refrain from posting anything negative about Mr. Dobson, whether direct or indirect, whether implied or by innuendo."
Prior to Michael being granted his restraining order, Jill was granted one against him as well:
In her February (2018) restraining order request, Jill claimed that not only has Michael been draggin' the hell outta her to her family and friends, he's also taken numerous jabs at her in the media. She listed the time when Michael did an interview, calling her "an evil woman" and vowing to "fight dirty." It was also reported that when Jill stepped to him about his constant trash talking, she claims Michael told her it was his revenge plot to get back at her for deciding to end their short marriage. That ain't all though, as we previously reported, Michael supposedly stated that he's demanding $500K dollars from Jill. According to Jill's legal filing, her estranged hubby is trying to defame her just to get a piece of her paper, which was listed in the form of $2 million business accounts and other assets.