Vince Reportedly Kicked Out & Banned From Tamar Braxton's Home By Security After Hostile Incident
Posted On : April 14, 2018
We'll start this off with the profound words of "Florida Evans": "Damn, damn DAMN"…Vince! That's pretty much the reaction of many Tamar Braxton fans, after waking up to news that she and her estranged husband/manager, Vincent "Vince" Herbert, reportedly had yet ANOTHER hostile altercation.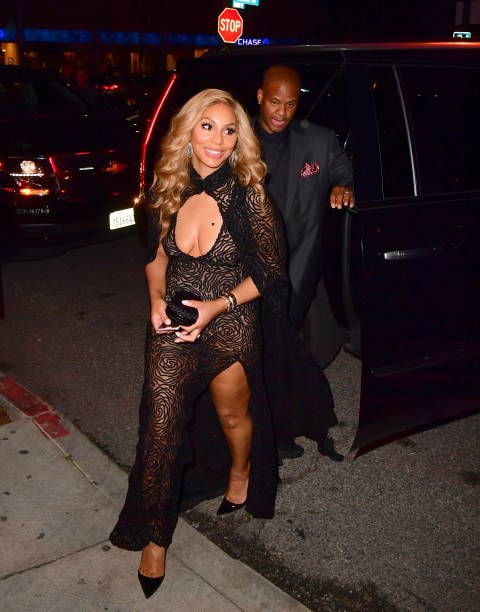 What Happened?
According to new reports, Vince got thrown the hell out of Tamar's new upscale high rise bachelorette pad on Friday night (4-13-18). Word on the Old School curb is that the brotha was also told, by the condo's security team, to 'Hit the road jack and don't-cha come back no more, no more, no more, no MO!,' just like the great Ray Charles once sang. Okay, maybe security didn't quite tell Vince to 'get tuh steppin' with those exact lyrics, but nonetheless, the message was apparently still the same. Here's what was reported by TMZ:
Sources familiar with the matter tell us, Tamar and Vincent Herbert got into a heated argument Tuesday night that got so out of hand, security at her Bev Hills condo escorted him out and told him he's no longer allowed in the building. […] We're told building security acted so swiftly, cops weren't needed, but Vince was told if he returns … cops WILL be there, stat!
Damn…Tamar moved to her own crib to find peace and serenity…and to get her 'how Stella got her groove back' on, but she still didn't get it there?!!  As we previously reported, Tamar pays a pretty penny for her plush condo, so we're pretty sure the walls are not made of thin materials by far. Yet, the Mr. and Mrs. were arguing so loudly, that it bled through those expensively thick walls and the security had to rush the place? Geesh!
Tamar and Vince's marriage has been plagued by domestic violence rumors and police report claims throughout the past few years. However, we're not sure what the culprit behind their most recent reported altercation was, but hopefully it didn't involve any beatdowns, like the one Tamar's mother, Evelyn Braxton, said she witnessed…
Watch Mama Braxton Go OFF About Vince's Alleged Abusive Ways
Remember when Evelyn Braxton was HEATED and put Vince on blast with her abuse claims? If not, here's a recap of what Mama Evelyn said and why she wants Vince clean away from her daughter:
In November 2017, Evelyn appeared on the daytime talk show, "Sister Circle," and claimed that she was actually inside the house with Tamar and Vince during one of his alleged abusive episodes. She recalled hearing a sound in the house that seemed as if "the elevator was falling." She claims she saw Tamar running from Vince. At the time, she had her grandson in the room with her, but she stepped out of the room momentarily to confront Vince. That's when Mama Evelyn claims he went off on her too:
"I ran back to the room because the baby was in the bed with me," she added. "I was very much afraid for the baby. I put a chair behind the door. I barricaded myself in the room, and held that baby all night long. That's no way, no way, for anyone to live."
See what else Mama Braxton said in the video below…
Mama Braxton also went off about Vince, in a 2017 TMZ interview, where she angrily stated, "I don't really have anything to say to Vince, only one thing: Keep his HANDS off of my child!" She had a lot more to say in the video below…

Vincent has denied ALL allegations against him and Tamar has not addressed the physical abuse allegations publicly.