It's Over: Usher & Wife Announce Separation, Weeks After His Ex, Chilli, Tweets About Him
Posted On : March 6, 2018
For 39 year old Usher and his 48 year old wife, Grace Miguel, 2017 was a tumultuous year amid Usher's herpes scandal, but unfortunately in 2018, they've had about all they could take.  The Mr. and Mrs. have just publicly announced that their saying 'peace out' to each other.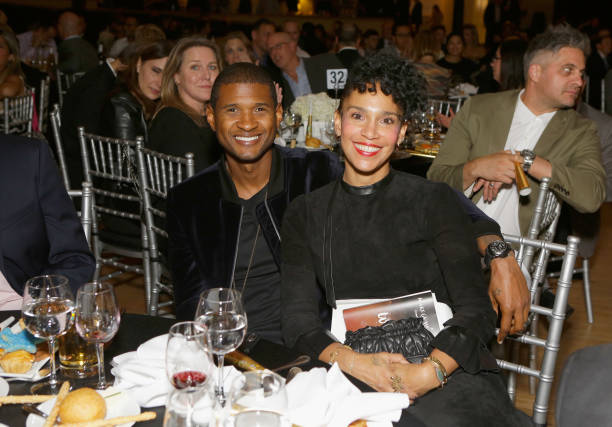 Usher & Wife's Separation Announcement
In a brief statement Usher and Grace issued to US Weekly, they stunned fans with the news:
Via US: "After much thought and consideration we have mutually decided to separate as a couple," Usher, [39], and Miguel, 48, said in a joint statement to Us on Tuesday, March 6. "We remain deeply connected, loving friends who will continue supporting each other through the next phases of our lives. The enormous amount of love and respect that we have for each other will only increase as we move forward."
It was also reported that Usher and Grace had already secretly separated for "a couple of months."
Wife Shares Cryptic Messages Following Their Anouncement
Grace is known for giving cryptic messages on her Instagram page and shortly after they announced their split, she posted a few on her page. Her cryptic posts gave a combined vibe of the types of breakup messages within Lisa Lisa & The Cult Jam's "All Cried Out," mixed with a hint of Mya's "I'm Moving On," and a dash of Beyonce's "Irreplaceable." Grace's first post read: "In as much as you have suffered finding your way in the world, you have also triumphed. Let not past failures pull you back through time and space. Rather begin each new day as an opportunity to create that which brings joy to your heart. Rejoice in your capacity for resilience."
Grace then posted a meme, encouraging herself and others to do away with the 'what's the best for your image' mentality and instead follow what your heart tells you to do. In other words, Grace is probably sick n' tired of frontin' out here in these streets, like she's unbothered by the drama of Usher's herpes scandal and cheating allegations.
Mr.and Mrs.Usher Raymond married in September of 2015, after having dated for 6 years prior, since 2009. Even on their 2 year anniversary last year, after the herpes scandal broke, it seemed as if Grace was standing strong by her man. She even sent a few loving messages to him on the day of their anniversary. In her first post, she vowed to always stand by her man's side no matter what:
In her second anniversary post, she shared a happy photo of her and Usher, as she reminisced about the time he surprised her:
@enmemetemps: That time my husband surprised me on our anniversary to a day of soul cycle with @shapewithangela , The Chagall Show @lacma , Pranayama breathing, Kirtan Chanting and yummy Moroccan food. #Blessed
Their Separation Comes Weeks After Chilli's Tweet
Usher's and Grace's announcement comes a few weeks after Usher's ex-longtime girlfriend, Rozonda "Chilli" Thomas (of TLC), sent Twitter into a tizzy with her suspect tweet about her and Usher's relationship. Now, it kinda makes one wonder if Chilli already knew some inside info about their situation, that us regular folks didn't. Why? Because her tweet, though short and sweet, was a tad outta character for Chilli, who hardly ever publicly talks about her past relationship with Usher and damn sure never tweets about the brotha, being that he's married and all. That's why it caught so many of her Twitter fans off guard when she tweeted about 'Mr.Ursher baby' on February 28th.
As we previously reported, it all started with one simple tweet Chilli retweeted from someone who tagged both her and Usher in a tweet that read, "@Usher & @officialchilli were a pretty a$$ couple!❤💔"
The tweet seemed innocent enough, but once Chilli retweeted it with her own caption that read, "Facts," fans turned it into a whole 'notha thing altogether:
Facts https://t.co/2dZ4CFBi4j

— Chilli (@officialchilli) February 18, 2018
As you can see, Chilli had a "Back down memory lane" like Minnie Riperton, for a split second. But y'all already know fans were quick to point out that Chilli, who reportedly is single, must still want her ex back. Many also commended her on 'shooting her shot' at Usher from a distance:
https://twitter.com/Klove212/status/965311546871042048
— GlamRoz (@NilliRoz) February 18, 2018
try to make it work beloved pic.twitter.com/ZSV1h0J1oe

— Coontessa (@LowKei_) February 18, 2018
https://twitter.com/CaptainLit_/status/965336045440118784
https://twitter.com/KikiCamille/status/965348638565298177
https://twitter.com/Mr_DePHInition/status/965317920720130048
Not even Chilli could ignore the reactions, so she decided to respond to one fan with a question:
Fan- "Still feeling a way I see 👀"
Chilli- "U got that just from me saying facts?? Cut it out now."
https://twitter.com/zothegal/status/965312166004953089
Regardless of how Chilli's attempt to redirect everyone's attention in the 'I meant no harm' direction, she should've known her tweet would stir up lil' hype, which she probably was already aware of. In today's world of social media, it's almost impossible for her not to assume that her tweeting a trip about her past with Usher, would not catch the attention of her 860K Twitter fans. Most of them want those two to rekindle that ol' flame again anyway. As of today, fans may now have a chance to see Usher ad Chilli do just that one day, who knows? But that's makes Usher's and Grace's separation announcement a bittersweet moment for many fans.
We'll let Lisa Lisa & Full Fore take us out on this one with their classic, "All Cried Out"…
https://youtu.be/Krd0N7arHEE?t=19s