Jimmy Jam's Wife Wasn't The Only One Who Married A Rich Celeb, So Did Her Sister
Posted On : November 17, 2020
Legendary producer, Jimmy Jam (of the production duo, Jimmy Jam & Terry Lewis) is the brother-in-law of another legend. Turns out, Jam's wife, Lisa, isn't the only one in her family married to a famous rich celebrity, her younger sister, Brandi is married to (and has kids with) one of today's greatest athletes.
As many of us Old Schoolers may already know, Lisa and Jam have been married for 26 years (since 1994) and have three children together. Lisa's sister's marriage didn't hit the 26 year mark, but she and her famous hubby had a pretty lengthy run at it as well.
PEEP JIMMY JAM'S VERY FAMOUS BROTHER-IN-LAW…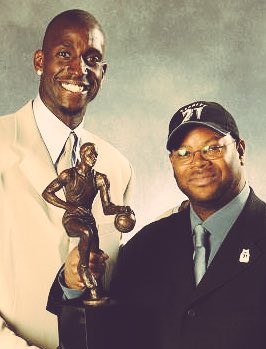 Jimmy Jam's brother-in-law is the legendary NBA baller, Kevin Garnett, who recently retired after 21 years in the game…
Ten years after Lisa Padillia married Jimmy Jam in 1994, her lil' sis,' Brandi Padillia, said "I do" to Kevin in a private 2004 wedding ceremony. They also have two precious daughters together, ages 12 and 7. Unfortunately, as of 2019, Brandi and Kevin were in a VERY expensive divorce battle.  Word on the Old School curb is that Lisa came up big time with their divorce agreement.
The Padillia sisters seem to have a type: successful, powerful brothas. In the past, some have labeled them as gold diggers because of their tastes in men, but I don't know if those claims hold any truth, or not. However, the sisters at least deserve props for managing to do what many celebrity marriages unfortunately cannot – stay together well past the 5-year mark.
Jimmy Jam & Kevin Garnett's Close Friendship
Jam and Garnett have a close brotherly bond. In fact, they're so close, that a lotta folks tried to get Jimmy to convince Kevin not to retire (after the end of the 2016-2017 season), but here's what Jam had to say about that:
Jam Reveals How Everyone Tried To Get Him To Talk Garnett Out Of Retirement
Jimmy Jam: "A lot of people that talked to me wanted to talk him back into playing another year. I passed things on to him, but I never really got a response. I figured that anybody trying to talk him into playing was probably falling on deaf ears in a sense. Of the arguments they were saying to me on why he should play, the only thing that really resonated to me was just the fact that once you retire you can't really unretire, although Michael Jordan was different. That was the one. People said that if he waited another year then he would go into the Hall of Fame and it would be his year [instead of being with Kobe Bryant and Tim Duncan in 2021]. I said, 'Well, you don't know Kevin really well.' He's not really a spotlight guy."
Jimmy Jam On Supporting His Brother-in-Law At The Games
Jimmy Jam: I went to every [home] game [in Minnesota] and I used to drive my assistant crazy because whenever someone would say, 'Can you come on this day to work on this project? Can we work on it this day?' The first thing I would say to my assistant was, 'Where are the Wolves that night?' …Let's plan it around that.' -via The Undefeated
And there ya' have it ILoveOldSchoolMusic family. Like we always say, we learn something new 'round these parts everyday!