(Video) Whoopi "Schools" Mo'Nique In Tense Convo' After Mo'Nique's Claims Of Being Blackballed
Posted On : February 23, 2018
For the past 8 years, we've all heard Mo'Nique tell her side of the story about how Precious director, Lee Daniels, Oprah Winfrey, and Tyler Perry blackballed her in Hollywood, for refusing to promote the film Precious "for free." The actress/comedian has repeatedly blasted all three heavy-hitters for secretly destroying her career, because she refused to allow them to "bully" her.
Details on Mo'Nique's & Whoopi's Tense Exchange
On Thursday (2-23-18), Mo' met her match when she sat down to chop it up with Whoopi Goldberg on The View. They discussed the situation in greater detail and as Mo'Nique was telling her side of the situation again, Whoopi had to stop her and "school" her about how she should've handled that particular situation for the greater good of her career going forward. Whoopi also reminded her about the help she tried to extend to Mo' at that time. However, Mo'Nique was sticking to her guns about the fact that she was not contractually wrong/nor obligated to do film promotion for free. Check out their exchange below (scroll down for the intense video footage):
Mo'Nique- "I've done my job"…
Mo'Nique: "Eight years ago I did a movie called Precious," said Mo. "On that film I received $50,000. That was not my argument, nor my fight because that's what I signed up for," she said. "My deal was with a man named Lee Daniels. I did all of my contractual obligations and I was done. Then I started getting phone calls from Lee Daniels, Tyler Perry and Oprah Winfrey. They wanted me to come work for free. To go over to Cannes and promote this film internationally. I said to them, 'Guys, my deal is with Lee Daniels and I've done my job.' And they all agreed. […] And this is what happens, in my humble opinion, when you don't go up to the hotel room," she said.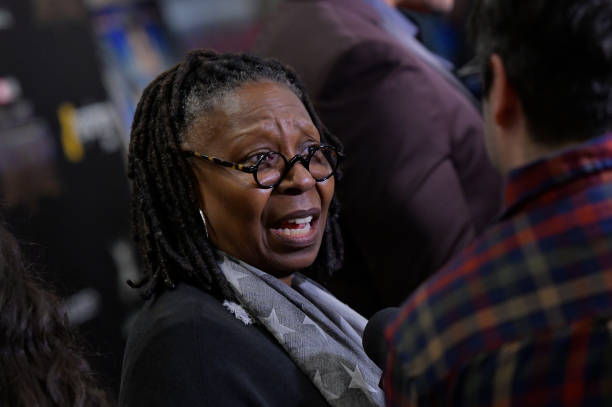 Whoopi- 'Hol' up, let me school you'…
Whoopi: "I'm going to stop you because contractually, when you make a movie, regardless of who you sign the deal with, your job is to go and promote said movie," said Whoopi. "And we've had this conversation and I said if you had called me I could've schooled you on what was expected."
Mo'Nique: "And we did have that conversation and what I said to you my sweet sister, I said, 'Whoopi, at what point do we stop saying the next time?'" Whoopi asked, "What next time?"
Mo'Nique- 'I'm not letting them bully me'…
"If I had done something wrong contractually, they would've sued me," added Mo'Nique. "The reason why no one could do anything to me contractually is because they found out I did nothing wrong contractually. So, when they asked me to come overseas to promote the film — when I said, 'Guys, I'm spending time with my family, I'm going to pass.' […] What Tyler Perry showed me, Lee Daniels, Oprah Winfrey and Lionsgate, when you don't do what we ask you to do, we'll take your livelihood. So for eight years, my family has suffered, my career has suffered because what I would not allow those entities to do was bully me."
The entire time Mo'Nique spoke about this situation, Whoopi gave her the side eye and once Mo' was done, Whoopi cut the convo' short and simply thanked her for coming to the show. Watch the tense exchange below…
.@moworldwide tells her side of the story that damaged her reputation: "For 8 years, my family has suffered, and my career has suffered, because … I would not allow those entities to … bully me." https://t.co/f8u2wc159S pic.twitter.com/cb9wUmiMfY

— The View (@TheView) February 22, 2018
Could Mo'Nique Learn Something From Whoopi
Although Mo' is correct in her statements, that she was not contractually obligated to promote the film free of charge, Whoopi seems to have been trying to explain to her, that there is a difference between sacrificing a little to pay your dues in the game, versus being messed over. Whoopi has managed to have a very long career in Hollywood and outside of Hollywood, paving the way for comedians/actresses like Mo'Nique. Therefore, although Mo' has a point, because it is never okay to be 'bullied,' she still could have maybe learned a thing or two from Whoopi about how to successfully play the game and come out on top in the end. At any rate, I still respect Mo'Nique's fearlessness to stand up and speak out for whatever she feels is right.
Many others agree and disagree with Mo' on this one and have voiced their opinions on social media. But as we previously reported, she has also gained many allies in her quest for equality in Hollywood. One of them is LaMicah Levert, son of Mo'Nique's dear friend, the late R&B legend, Gerald Levert. See what he said about this below…
Gerald Levert's SON Defends His Dad's Friend, Mo'Nique
Many of y'all may remember when we previously introduced you to LaMicah Levert. Not only is he the spitting image of his pops, but just like his daddy, he's a very good friend to Mo'Nique. Gerald and Mo'Nique go way back. Although many believed they dated, Gerald Levert confirmed, in an interview, that they were just homies. But because fans assumed there was romance, he said Mo'Nique, being a comedian, playfully played on that. He thought it was funny and so did she, so there's the end of that rumor. Anywho, back to LaMicah's defense of Mo'Nique- the woman he's known since he was a youngin'.
LaMicah Levert recently took to Instagram to defend Mo'Nique and pay homage to her for always helping his family, even after his father was gone. He posted a throwback photo of himself, Mo'Nique, and his dad's ex-girlfriend/Xscape singer, Kandi Burruss (if you didn't know about Kandi and Gerald, you can catch that scoop HERE). Check out LaMicah's post below:
Kandi Burruss, Stands With Mo'Nique
Also, as we previously reported, in addition to Levert's look-alike son ridin' with Mo'Nique, Gerald's ex-girlfriend/Xscape singer, Kandi Burruss, showed love to Mo'Nique online as well. By the way, even though Kandi and Gerald were no longer dating at the time of his passing in 2006, Kandi and LaMicah are still very close to this day. So it was only natural that they both shared the same photo, on Instagram, at the same time. In a more lighthearted homage, The Real Housewives of Atlanta star jokingly played on some of the wording of Mo'Nique's Netflix boycott message, but it was all in good fun:
When It Rains It Pours…Mo'Nique's Tax Problems
Unfortunately for Mo'Nique, as she continues to fight for what she feels is right within Hollywood, just like the Old School saying goes: 'When it rains, it pours.' Her current tax troubles are definitely an example of that. It was reported that 'Uncle Sam' is after Mo'Nique for owing 'more than $560,000 – $560,625.72 to be exact. Reports suggest that the latest lien, filed in 2016, was the result of unpaid taxes from 2013 and 2014. "In 2016, she had a tax lien filed against her for the years ending 2013 and 2014 for a total of $389,904.98. Last fall, the federal government said she was late paying her taxes in 2015 as well to the tune of $170,720.74."'
Mo'Nique has proven herself to be a strong woman, so although this is probably a pretty tense time for her, she'll more than likely be able to bounce back from it.